DeNova Detect Natural Gas Alarm - ML-330
You Save: $50.00 (31% Off)
10% LEL natural gas alarm threshold validated by Intertek (ETL)
Virtually eliminates nuisance alarms (GTI tested with 15+ chemicals)
7 year product life
Battery powered device enables optimal installation close to ceiling
Device can be installed in a wide variety of temperature ranges from 32°F to 122°F
Voice alerts in English and Spanish
Remote self-diagnostics
No calibration needed
Listed to UL1484
Product Features
DeNova Detect Natural Gas Alarms by New Cosmos USA offer protection against the threats of natural gas (or methane) hazards. This natural gas alarm is suitable for houses, apartments and manufactured housing. DeNova Detect Natural Gas Alarms are manufactured to a 10% LEL gas alarm threshold, alerting you to an emergency much sooner than traditional technologies that are designed to alarm at 25% LEL. This alarm features superior technology that virtually eliminates all nuisance alarms. In addition to an 85dB alarm warning sound, this Natural Gas Alarm includes the following voice alerts in English and Spanish: "Danger - gas leak explosion risk - evacuate, then call 911". "Peligro - riesgo de explosion por fuga de gas - evacuar, luego llamar al 911".
The contemporary design is fast and easy to install. No wiring is needed to install this natural gas alarm. DeNova Detect Natural Gas Alarms are ETL tested and listed to UL1484 Standards. It is advisable to install natural gas alarms in all rooms where a gas leak may occur, or a gas appliance is located. Examples include kitchens, laundry rooms, and furnace areas. The DeNova Detect ML-310ES Natural Gas Alarm comes with a 7-year limited warranty.
Easy to install - mounts with one screw, no wiring or bracket necessary:
The DeNova Detect Natural Gas Alarm should be installed in all rooms where a gas leak may occur or a gas appliance is located. Examples are a kitchen (gas leaks from gas ovens and cook tops), laundry (gas leaks from a gas clothes dryer), and furnace area (gas leaks from furnace burners or boilers). However, do not install closer than 10 feet (3 meters) from gas appliance. It is possible that gas leaks may migrate along pipes so consideration should be given to place gas alarms in multiple rooms. Gas alarms should be located between 6 to 12 inches (0.15 to 0.3 meters) from the ceiling.
Warranty Information:
New Cosmos USA warrants this product to be free from defects in material and workmanship for a period of 7 (seven) years from the date of purchase. This warranty shall not apply to any batteries used in the product or to any damage which may be caused by such batteries. This warranty applies only to the original consumer purchaser and only to products used in normal residential use and service. If this product is found to be defective, New Cosmos USA will repair or replace the product, at New Cosmos's discretion, provided the product has not been damaged through misuse, abuse, accident, modifications, alterations, neglect or mishandling. This Warranty shall not apply to any product which is found to have been improperly installed, set-up, or used in any way not in accordance with the instructions supplied with the product.
* Validated by Gas Technology Institute report, Evaluation of Residential Methane Detectors, Phase III. Project No. 21696.

** LEL, short for "Lower Explosive Limit", is defined as the lowest concentration (by percentage) of a gas or vapor in air that is capable of producing a flash of fire in presence of an ignition source (arc, flame, heat).
Where To Install Natural Gas Alarms:
This natural gas alarm should be installed indoors in any room that has a gas-fueled appliance. This can include a stove, furnace, water heater, gas fireplace, or a gas dryer. Natural gas is lighter than air and accumulates towards the ceiling - not by the floor. It should be installed on the wall, between 4 to 12 inches from the ceiling. It should be installed at least 5 feet away from cooking appliances or cooktop hoods and at least 10 feet away from other gas appliances.
Traditional plug-in natural gas alarms are installed too low and may not detect dangerously high-levels of natural gas before reaching an explosive level. Detection can occur earlier when alarms are installed higher in the room, giving residents more time to react appropriately.
LED Indicators On The Alarm:
The Power LED (green) tells you if the natural gas alarm is on. To check if the natural gas alarm is on, hold the Test button for less than 3 seconds, then release. You will hear the natural gas alarm beep once, and the Power LED will blink for 3 seconds.
The Trouble LED (yellow) tells you a few different things with the natural gas alarm. If the Trouble LED is blinking once every 10 seconds, this means the battery is low. If the Trouble LED is blinking twice every 10 seconds, this means the device has reached its end-of-service-life. If the Trouble LED is blinking 3 times every 10 seconds, this means there is a detector error.
The Alarm LED (red) tells you if methane gas has been detected at a concentration above the alarm threshold. In the event of a natural gas alarm, the Alarm LED will blink once every 2 seconds until the gas leak conditions have been resolved.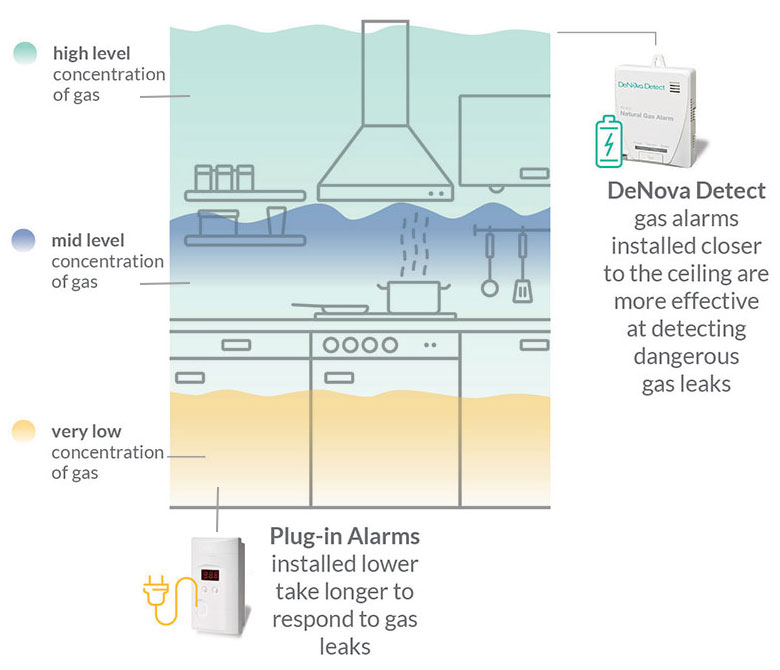 Product Details
| | |
| --- | --- |
| Model Number | ML-330 |
| Conforming standards | FCC certified and listed to UL1484, MEMS sensor listed to UL 2075 |
| Detection principle | MEMS hot-wire semiconductor sensor |
| Target gas | Methane gas (Natural Gas) |
| Gas immunity* | Acetone, ethanol, bleach solution |
| Operating temperature range | 32°F (0°C) to 122°F (50°C) |
| Operating humidity range | 5% to 95%, no condensation |
| Power supply | Battery Operated - 3V Lithium battery |
| Alarm level | 10% LEL* |
| Sound pressure | Gas alarm : 85 dB @ 10 ft. |
| Dimensions | W 85mm x H 100mm x D 22 mm |
| Installation | Pipe mount by cable ties or wall mount with hardware |
Product Specs
If you are interested in ordering a large quantity of items you may qualify for volume pricing discounts. Volume Discount Pricing is a great way for customers to save big on large, bulk orders of most items available in our store. Please send a bulk order request to our friendly sales staff so they may create a quote and provide personal service for your order! You will receive a response within 1-2 business days and our office hours are Monday through Friday, 8am-5pm CST.
We make it as easy as possible to ensure you get the lowest prices available:
Let us know what products & the quantities you are interested in.
Get a detailed quote from a dedicated sales rep.
Our warehouse ships directly to you.
You enjoy the savings & are now a preferred customer.
Send A Request Now
DeNova Detect Natural Gas Alarm - ML-330 Reviews
Impressed with simplicity
I must say, I am thoroughly impressed with the Denova ML-330 Natural Gas Alarm. As an elder who values safety above all else, this device brings me great peace of mind. The installation was simple, and the compact design fits perfectly in my home. The loud siren, voice alarm and bright LED display ensure that I am immediately alerted to any gas leaks, I recommend this gas alarm to fellow seniors who prioritize safety and want an easy-to-use solution to protect their homes.
Easy
Units arrived in a day from order and were very easy to setup and install. I have one in our furnace room and one by my gas fireplace just in case. Wish they were less expensive however the customer service rep gave me a coupon code to get them discounted a little bit. Thanks again for answering all my questions.