DeNova Detect Natural Gas Alarm - ML-310ES
You Save: $50.00 (33% Off)
10% LEL natural gas alarm threshold validated by Intertek (ETL)
Virtually eliminates nuisance alarms (GTI tested with 15+ chemicals)
6 year product life
Battery powered device enables optimal installation close to ceiling
Device can be installed in a wide variety of temperature ranges from 32°F to 122°F
Voice alerts in English and Spanish
Remote self-diagnostics
No calibration needed
Listed to UL1484
Product Features
DeNova Detect Natural Gas Alarms by New Cosmos USA offer protection against the threats of natural gas (or methane) hazards. This natural gas alarm is suitable for houses, apartments and manufactured housing. DeNova Detect Natural Gas Alarms are manufactured to a 10% LEL gas alarm threshold, alerting you to an emergency much sooner than traditional technologies that are designed to alarm at 25% LEL. This alarm features superior technology that virtually eliminates all nuisance alarms. In addition to an 85dB alarm warning sound, this Natural Gas Alarm includes the following voice alerts in English and Spanish: "Danger - gas leak explosion risk - evacuate, then call 911". "Peligro - riesgo de explosion por fuga de gas - evacuar, luego llamar al 911".
The contemporary design is fast and easy to install. No wiring is needed to install this natural gas alarm. DeNova Detect Natural Gas Alarms are ETL tested and listed to UL1484 Standards. It is advisable to install natural gas alarms in all rooms where a gas leak may occur, or a gas appliance is located. Examples include kitchens, laundry rooms, and furnace areas. The DeNova Detect ML-310ES Natural Gas Alarm comes with a 6-year limited warranty.
Easy to install - mounts with one screw, no wiring or bracket necessary:
The DeNova Detect Natural Gas Alarm should be installed in all rooms where a gas leak may occur or a gas appliance is located. Examples are a kitchen (gas leaks from gas ovens and cook tops), laundry (gas leaks from a gas clothes dryer), and furnace area (gas leaks from furnace burners or boilers). However, do not install closer than 10 feet (3 meters) from gas appliance. It is possible that gas leaks may migrate along pipes so consideration should be given to place gas alarms in multiple rooms. Gas alarms should be located between 6 to 12 inches (0.15 to 0.3 meters) from the ceiling.
Warranty Information:
New Cosmos USA warrants this product to be free from defects in material and workmanship for a period of 6 (six) years from the date of purchase. This warranty shall not apply to any batteries used in the product or to any damage which may be caused by such batteries. This warranty applies only to the original consumer purchaser and only to products used in normal residential use and service. If this product is found to be defective, New Cosmos USA will repair or replace the product, at New Cosmos's discretion, provided the product has not been damaged through misuse, abuse, accident, modifications, alterations, neglect or mishandling. This Warranty shall not apply to any product which is found to have been improperly installed, set-up, or used in any way not in accordance with the instructions supplied with the product.
* Validated by Gas Technology Institute report, Evaluation of Residential Methane Detectors, Phase III. Project No. 21696.

** LEL, short for "Lower Explosive Limit", is defined as the lowest concentration (by percentage) of a gas or vapor in air that is capable of producing a flash of fire in presence of an ignition source (arc, flame, heat).
Where To Install Natural Gas Alarms:
This natural gas alarm should be installed indoors in any room that has a gas-fueled appliance. This can include a stove, furnace, water heater, gas fireplace, or a gas dryer. Natural gas is lighter than air and accumulates towards the ceiling - not by the floor. It should be installed on the wall, between 4 to 12 inches from the ceiling. It should be installed at least 5 feet away from cooking appliances or cooktop hoods and at least 10 feet away from other gas appliances.
Traditional plug-in natural gas alarms are installed too low and may not detect dangerously high-levels of natural gas before reaching an explosive level. Detection can occur earlier when alarms are installed higher in the room, giving residents more time to react appropriately.
LED Indicators On The Alarm:
The Power LED (green) tells you if the natural gas alarm is on. To check if the natural gas alarm is on, hold the Test button for less than 3 seconds, then release. You will hear the natural gas alarm beep once, and the Power LED will blink for 3 seconds.
The Trouble LED (yellow) tells you a few different things with the natural gas alarm. If the Trouble LED is blinking once every 10 seconds, this means the battery is low. If the Trouble LED is blinking twice every 10 seconds, this means the device has reached its end-of-service-life. If the Trouble LED is blinking 3 times every 10 seconds, this means there is a detector error.
The Alarm LED (red) tells you if methane gas has been detected at a concentration above the alarm threshold. In the event of a natural gas alarm, the Alarm LED will blink once every 2 seconds until the gas leak conditions have been resolved.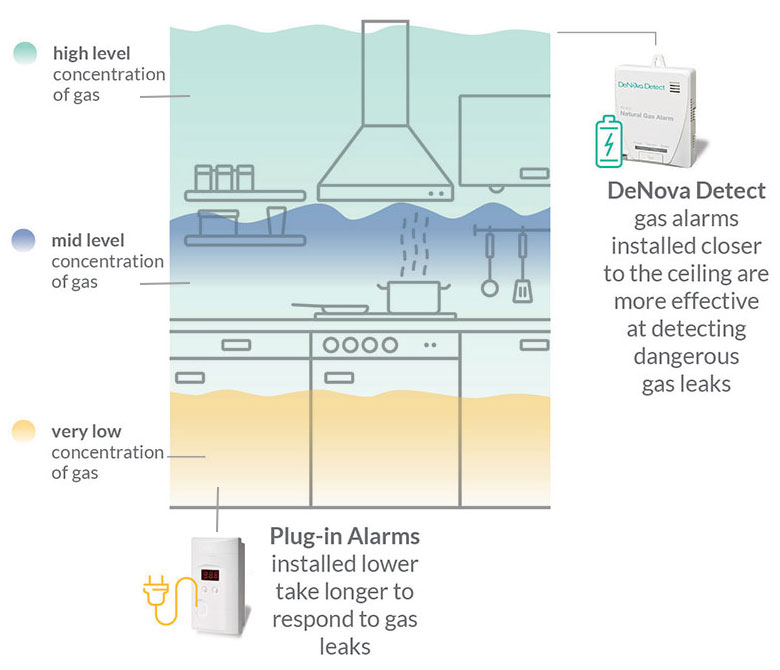 How do I open the battery cover and install the battery?
Open the battery cover on the back of the detector.
This cover slides out of place. To open, place both thumbs on the back of the battery cover where the battery cover hooks snap into place.
Push down where the battery cover snaps into place with your thumbs and slide the cover out. Some force is required.
Connect the included lithium battery by inserting the battery harness connector into the product.
Do NOT remove the plastic wrap surrounding the battery pack.
The battery connector has a large notch on it that faces up when installed correctly. There is only one way in which the connector can be installed. A small portion of the connector will be exposed when connected properly. You should hear it click into place.
After connecting the battery, place the battery with the labels facing down and the battery wires wrapping around the top side of the battery pack. For the best fit, it is recommended to have the negative (-) terminals face toward the outer edge of the detector.
What should I do if the DeNova Detect Natural Gas Alarm's audible gas leak alarm sounds?"
If at any time your natural gas detector's alarm sounds or if you ever smell or hear a natural gas leak:
Evacuate immediately and take others with you.
Do not use a phone; light a match; turn on or off lights, flashlights, or appliances; start a car; or do anything else that could create a spark or flame and cause the gas to ignite or explode.
Call 911 once you are safely outside the premises. You can report leaks anonymously.
Do not re-enter the premises until told to do so by authorities.
In the event of a gas leak, you may smell natural gas before the natural gas detector's alarm is activated. Whether or not the unit's alarm is sounding, if you smell gas, act fast. Report the leak once you are safely outside.
How do I recognize a gas leak?
Smell - A distinctive, strong odor similar to rotten eggs
See - A white cloud, mist, fog, bubbles in standing water, blowing dust, or vegetation that appears to be dead or dying for no reason
Hear - Roaring, hissing, or whistling
Do I need to perform any maintenance on my Natural Gas Detector?
The natural gas detector was designed to be as low maintenance as possible. If the unit begins to sound its low battery signal - a single intermittent chirp - contact New Cosmos Electric Co. at 1-847-749-3064 to obtain a replacement battery; these batteries are not available in stores.
The manufacturer recommends testing the unit at least once a week and cleaning the unit once a month by gently vacuuming the outside of the unit; do not use water, cleaning, and maintenance.
Will the Natural Gas Detector continue to work if the power goes out?
Yes. Since the unit is powered by an internal battery, the natural gas detector should continue to function during a power outage.
Will the Natural Gas Detector monitor my home for smoke, fire, carbon monoxide (CO) or other gases?
No, the natural gas detector will only detect the presence of natural gas in the area where the unit is installed. It will not detect fire, heat, smoke or the presence of any other gases, including carbon monoxide (CO).
Will the Natural Gas Detector monitor all areas of my home for possible gas leaks?
No, the natural gas detector will only monitor the air in the area where the unit is installed. Natural gas leaks could be present in other areas and/or on other floors of your home or building without reaching the natural gas detector. As such, the unit's alarm may not sound in the event of a natural gas leak in a remote part of your home or building. Doors or the obstructions may also affect the rate at which natural gas reaches the natural gas detector. You should install separate gas detectors as needed in other areas of your home where natural gas appliances are used.
If the Natural Gas Alarm's audible gas leak alarm is activated, will it be audible throughout my entire home?
No, the natural gas detector's alarm may not be heard in all rooms or situations. Since the natural gas detector is installed in a limited area of your home or building - such as the kitchen, for example - people sleeping or awake in other rooms or on other floors may not hear the unit's alarm in the event of a natural gas leak. People may not hear the alarm if the sound is at a distance and/or blocked by closed doors and/or other obstructions. Noise from traffic, stereos, radios, televisions, air conditioners, appliances, or other sources may also prevent people from hearing the unit. The unit's alarm is not intended for people who are hearing impaired.
Product Details
| | |
| --- | --- |
| Model Number | ML-310ES |
| Conforming standards | FCC certified and listed to UL1484, MEMS sensor listed to UL 2075 |
| Detection principle | MEMS hot-wire semiconductor sensor |
| Target gas | Methane gas (Natural Gas) |
| Gas immunity* | Acetone, ethanol, bleach solution |
| Operating temperature range | 32°F (0°C) to 122°F (50°C) |
| Operating humidity range | 5% to 95%, no condensation |
| Power supply | Battery Operated - 3V Lithium battery |
| Alarm level | 10% LEL* |
| Sound pressure | Gas alarm : 85 dB @ 10 ft. |
| Dimensions | W 85mm x H 100mm x D 22 mm |
| Installation | Pipe mount by cable ties or wall mount with hardware |
Product Specs
Product Manuals
DeNova Detect Natural Gas Alarm - ML-310ES Video
If you are interested in ordering a large quantity of items you may qualify for volume pricing discounts. Volume Discount Pricing is a great way for customers to save big on large, bulk orders of most items available in our store. Please send a bulk order request to our friendly sales staff so they may create a quote and provide personal service for your order! You will receive a response within 1-2 business days and our office hours are Monday through Friday, 8am-5pm CST.
We make it as easy as possible to ensure you get the lowest prices available:
Let us know what products & the quantities you are interested in.
Get a detailed quote from a dedicated sales rep.
Our warehouse ships directly to you.
You enjoy the savings & are now a preferred customer.
Send A Request Now
DeNova Detect Natural Gas Alarm - ML-310ES Reviews
Verified Purchase
Helpful
Natural Gas Alarm Review
The fact that the DeNova Natural Gas Alarm is battery operated and does not require a plug sets it above and beyond the market competitors. Price point is affordable. Ordering was uncomplicated. Delivery was as expected and timely. Mounting instructions and activation are straight forward. The only knock on this product is the amount of writing that is visible on the front plate. It negatively alters the aesthetics of the space it occupies. Seems to me that it is easily correctable on future models.
William B
October 6, 2022
Natural Gas Detector
Works great.
Cordless!
All other battery operated detectors were actually AC this was the only one I found that was truly cordless. We'll see how long it lasts.
Julie Harris
January 26, 2022
ML310ES
The ML310ES product is exceptional and here's why. 1. it's easy to install 2. It's the only battery-powered alarm available in the US market that doesn't require a plug-in cord 3. It was delivered quickly and exceeded expectations I highly recommend this product and company. To those who are looking for the right solution to detect Natural Gas leaks with certainty, this product really works!
Perfect Solution For Natrual Gas Detection
We needed a natural gas detector for above our gas fireplace. This was the only one that was not required to be plugged in to 120vac. I have tested this, installed it 1 for below the ceiling, and now have no worries. Great product.
Excellent Home Addition
I purchased two detectors for my home. I installed one where my gas water heater is located and one in kitchen where my gas stove is located. I am impressed with these detectors and recommend them for home safety. Only extra feature I would like to have is a smart app with HomeKit.
Jacqueline S
November 30, 2021
Great Buy
Easy to instsall!
Natural Gas Detector
Product appears to work good. Have not tested it with the presence on natural gas.
Debashish M
October 7, 2021
Very easy to set up - excellent for peace of mind
Set it up in 5 minutes upon getting it - the only reason I'm not rating it a 5 is because 3 of those 5 minutes were spent getting the clear glass battery cover to slide off!! Tested it and hung it 3 feet from our gas oven. Feeling pretty good about it.
Verified Purchase
Helpful
Great Product for Gas Safety
I have a gas furnace & water heater, & just switched to a new gas Samsung counter height slide in oven/range, because I prefer cooking with gas vs electric. Always worry about a gas explosion & not smelling gas leak in time. This product gives me a much larger level of comfort with detecting a gas leak early! Unit was smaller then expected, which was a plus, & even less noticeable. Planning to order a 2nd unit for main level near gas oven.