Natural Gas Detectors For Smarter Gas Leak Safety
A reliable natural gas alarm will help to significantly reduce the risk of a gas explosion.
10% LEL Gas Threshold
You can be alerted to an emergency situation an average of 11 minutes sooner* than the conventional technologies designed to alarm at 25% LEL.
*Source: Fire Risk Alliance, LLC study conducted on behalf of ConEdison.
Eliminates Nuisance Alarms
Abrasive household chemicals, like laundry detergent, disinfectant spray, aerosol hairspray and furniture polish, do not signal false alarms and the aggravation that goes with them.
Micro-Electro Mechanical Systems
Our proprietary sensor, a hot-wire semiconductor sensor with MEMS technology, allows for the alarm's superior responsiveness, reduced size and reduced power consumption.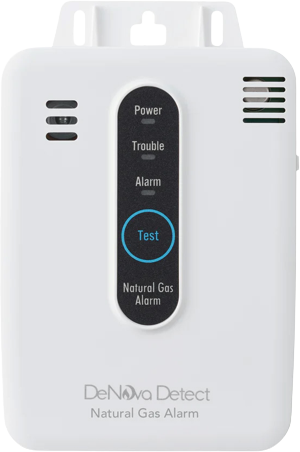 Buy Today & Save
Long Battery Life
The current DeNova Detect Natural Gas Alarms offer up to 7-years of battery life.
Installation Versatility
Our natural gas alarms can be installed in a wide variety of environments compared to typical technologies. The battery powered designs allow for installation close to the ceiling where natural gas accumulates, eliminating the need for a potentially dangerous and unattractive cord.
Voice Alert
In addition to the 85dB alarm warning sound, our customers appreciate our panic-reducing voice alert that instructs people in this pure and simple way: "Danger - Gas leak explosion risk - evacuate, then call 911."
Major Cost Savings
DeNova Detect Battery-Powered Natural Gas Alarms can save you up to $174 when compared to other plug-in detectors. This comes into play when you calculate the total cost of ownership. See the below guide that directly compares DeNova Natural Gas Alarms with other models.
Benefits of Battery-Powered vs. Plug-in Units
Where To Install Natural Gas Alarms:
This natural gas alarm should be installed indoors in any room that has a gas-fueled appliance. This can include a stove, furnace, water heater, gas fireplace, or a gas dryer. Natural gas is lighter than air and accumulates towards the ceiling - not by the floor. It should be installed on the wall, between 4 to 12 inches from the ceiling. It should be installed at least 5 feet away from cooking appliances or cooktop hoods and at least 10 feet away from other gas appliances.
Traditional plug-in natural gas alarms are installed too low and may not detect dangerously high-levels of natural gas before reaching an explosive level. Detection can occur earlier when alarms are installed higher in the room, giving residents more time to react appropriately.