State of Maine Introduces New Natural Gas Alarm Law: Is Your Home Safe?
The State of Maine's Department of Public Safety has just released a new law that will require the installation of natural gas alarms. This law was introduced as a means of providing additional protection from the many dangers attached to the undetected presence of natural gas. As such, the new law indicates that natural gas detectors will need to be installed in areas that use a propane, natural gas or liquefied petroleum gas fueled appliance.This can include anything from the furnace in the basement to the clothes dyer in the utility room and the oven in the kitchen. It has even been estimated that the average American home will use at least one natural gas appliance daily. The very use of a natural gas appliance (let alone daily or seasonal overuse) creates a scenario for a natural gas leak. For this reason and many others, the Department of Public Safety deemed it necessary to ensure that homes and other residences were equipped with a proper defense against the dangers of undetected natural gas. The law is robust in its plan for implementing this defense. Here are the following areas that will be required to install a form of natural gas detection where needed:
Where Do Natural Gas Leaks Occur in the Home?
Each unit in any building of a multifamily occupancy
Fraternity houses, sorority houses or any dormitory that is affiliated with an educational facility
Children's homes, emergency children's shelters, children's residential care facilities, shelters for homeless children or specialized children's homes
Hotels, motels and inns
Mixed use occupancy that features a dwelling unit
Business occupancy
Mercantile occupancy
Assembly occupancy
As you can see, it's a far reaching program that greatly exceeds just residential application. It's one that has been deemed necessary due to the threat imposed by undetected natural gas. During the course of a year, over a dozen deaths can be directly linked to natural gas explosions. The number of injuries and hospitalizations is even greater with property damage exceeding the millions. Due to its subtle and extremely volatile nature, natural gas presents a danger that can evolve into catastrophe very quickly. The installation of DeNova Natural Gas Detectors offers the fastest means of detection when it comes to warning an area to this very real and potentially lethal danger.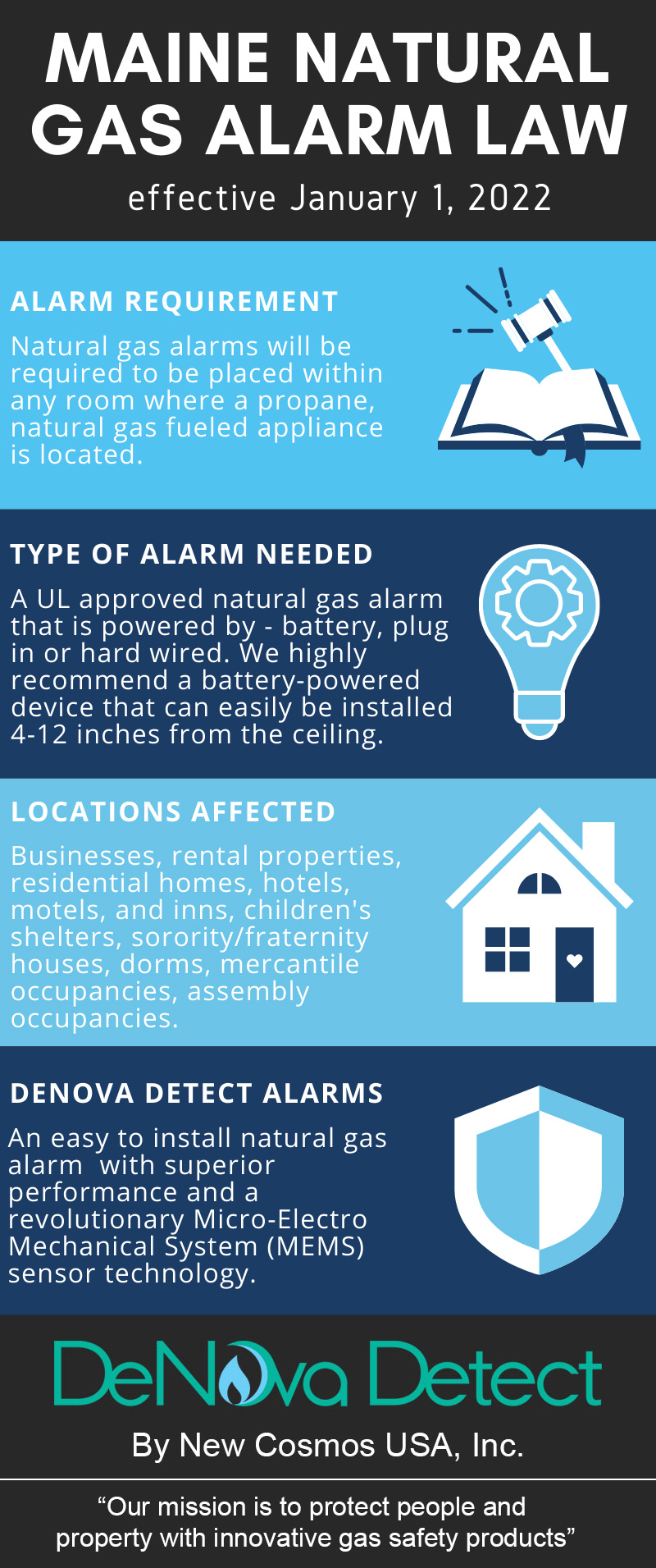 DeNova Natural Gas Alarms and Other Natural Gas Alarms
DeNova Natural Gas Detectors provide the most dependable means of preventing a potentially catastrophic residential and workplace gas leak explosion. Using revolutionary sensing technology, DeNova Natural Gas Alarms implement enhanced features that allow for superior performance. A standard natural gas alarm will offer a 25% LEL Gas Threshold. DeNova Natural Gas Detectors measure in at a 10% LEL Gas Threshold. What does this mean though? The lower percentage LEL translates to a quicker response time to natural gas. When a Denova Natural Gas Detector is triggered, it's capable of alerting the surrounding area up to 11 minutes faster when compared to other alarms. This extra time can be invaluable in creating an enhanced window of time to safely escape the area.
Denova Natural Gas Alarms also operate independent of a hardwired or plug-in setup which allows them to placed optimally (closer to the ceiling). Factor in a six year battery life that will continue to operate in the event of a power outage and you have an elite form of natural gas detection.
Built upon a legacy of protecting people and property with innovative safety products, New Cosmos continues to solidify its position as the world leader in residential gas explosion prevention. The DeNova Detect Store services as the official online platform to purchase DeNova Natural Gas Detectors.
Related Products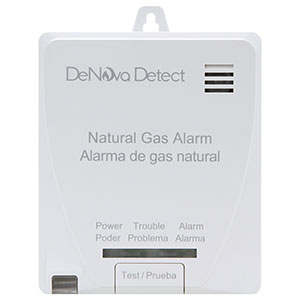 Quick view
Denova Detect Store News Archive