How to Protect Your Family from This Explosive Household Hazard
It has been estimated that over 60 million homes across the United States implement some form of natural gas. It's a very common means of powering a variety of home appliances such as furnaces, water heaters, clothes dryers, ovens and others. The use of just one or any combination of natural gas appliances can create a potential scenario for a gas leak to occur. It's a very real and present danger (nearly 300 natural gas explosions annually) that's responsible for lives being lost and homes being destroyed.
DeNova Detect Natural Gas Alarms have been designed with leading sensor technology, providing the fastest response time to natural gas leaks. This means that a DeNova Natural Gas Alarm can alert its surroundings on average of 11 minutes faster when compared to other natural gas detectors. This extra time can be invaluable when safely exiting your home. You can find additional information on the many dangers of undetected natural gas and how to best defend your home and family from it in the article below:
Built upon a legacy of protecting people and property with innovative safety products, New Cosmos continues to solidify its position as the world leader in residential gas explosion prevention. The DeNova Detect Store services as the official online platform to purchase DeNova Natural Gas Detectors.
Related Products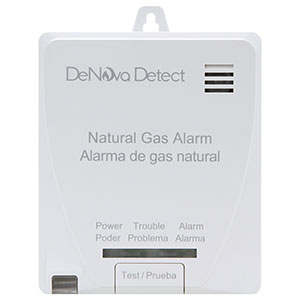 Quick view
Denova Detect Store News Archive